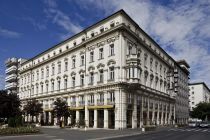 ✔️ Hotel Rába Győr
9021 Győr, Árpád út 34. 
Phone: 00-36-1-2279614
Hotel video
The 3-star Hotel Raba is situated in the historic part of Gyor, near the Wien - Budapest main road. Fully equipped rooms, family apartments and air-conditioned business suites provide conveniences for undisturbed privacy and for guests staying for longer periods. Hotels In Gyor.