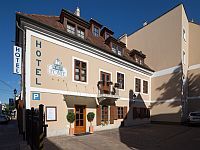 ✔️ Hotel Fonte Győr
9022 Győr, Kisfaludy út 38.
Phone: 00-36-1-2279614
Hotel video
The 3-star Fonte Hotel is located in the historical downtown of Gyor, in the neighbourhood of the National Theatre. The rooms have high quality equipment, some rooms are air-conditioned and all rooms have Internet-connection. In the hall of the hotel we undertake the organisation of family events, class reunions and banquets.