✔️ Hotel Fonte Győr ***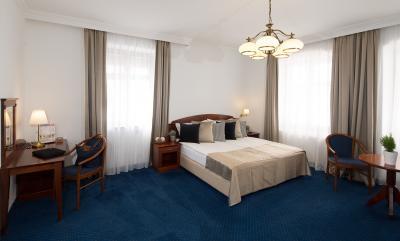 Hotel Fonte Gyor *** Fonte Hotel Gyor
Walking in the historical downtown of Gyor under the 18 th century baroque styled buildings we can find Fonte Hotel which was developed from a former civil town house.
Hotel Fonte is located in the historical downtown of Gyor, in the neighbourhood of the National Theatre.
Our 3-star hotel opened its gates in February 2000 and since then we have been providing wide services for our guests, our experiences which we gained during this time help us to realise our purpose, satisfying our guests in a high quality and in an intimate surroundings.
Through the pleasent internal yard, decorated by discreet flowers, our guests get to their intimate atmosphered, comfortable rooms. The rooms with high quality ensure a peaceful relaxation through the seperate bathroom colour TV, ISDN telephone line, minibar and safe. Some rooms in Hotel Fonte are equipped with air-conditioning and all of the room have Internet-connection.
A closed, guarded parking lot belongs to Hotel Fonte, it is free of charge for our guests.
In our banqueting hall there is a beautifully restored well, which was the part of the old civil town house.
The hall meets every demand of meetings, all kind of business programmes or product demostrations.
We undertake the organisations and settlements of class reunions, banquets and weddings in intimate atmosphere.
Naturally our banqueting hall has its own separate bar with the possibility of serving warm dishes. For extra needs we can provide flipchart, projectors, overhead projectors, TV, VIDEO, DVDs according to the needs of the organisation.