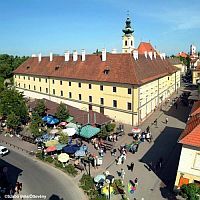 ✔️ Hotel Klastrom Győr
9021, Győr, Zechmeister u. 1.
Phone: 00-36-1-2279614
Hotel video
Hotel Klastrom is located in Gyor, in the vicinity of Raba Quelle Spa-, Thermal and Fun Bath. The 3-star castle hotel awaits its guests with uniquelly equipped rooms, restaurant with contemporary ambience and conference services in the downtown of Gyor.