✔️ Hotel Klastrom Győr ***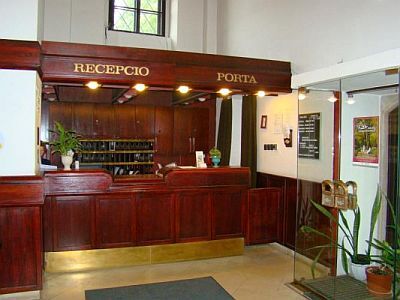 Hotel Klastrom Gyor *** - Cheap castle hotel in the vicinity of Raba Quelle Thermal Bath
Dear Guests! We have to inform you, that we are not distributing the Hotel at this time. Thank you for your understanding. Other Discount Hotels: Hotel Ibis Győr *** only 800 metres from the city centre's, Famulus Hotel Győr is located in the vicinity of the city center of Gyor, Amstell Hattyú Inn only a few-minutes walk far from the historic centre.
Hotel Klastrom is situated in the heart of Gyor, only within a few minutes' walk from the main sights of the city and from Raba Quelle Spa-, Thermal and Fun Bath. The 3-star castle hotel is directly connected to the Carmelite Church, which stands on one of the most beautiful baroque squares of Central Europe. The building of the hotel is a dominant part of Gyor's cityscape since centuries. The house was built in the 18th century as a cloister and a church and wears the characteristics of the baroque time. The hotel's square building embraces an inner yard.
Rooms:
The 40 rooms of Hotel Klastrom are located in 3 wings: the ones in the western wing have a view to the shore of River Raba and the Rado Island; the other rooms overlook to the inner yard. The unique ambience of the rooms guides our guests to the past. The hotel rooms were rebuilt from the former cells of monks keeping the authentic ambience. Guests can choose from single, double and triple rooms as well as a Karmel Lux suite is available. All rooms are equipped with bathroom, minibar, TV and phone. Most of the rooms also have Internet connection. The complete relaxation is provided by the sauna situated in the basement of the hotel.
Gastronomy:
The restaurant of Hotel Klastrom with an individual atmosphere is capable to hold 80 persons. The restaurant together with the inner yard is the magnificent venue of the arrangement of weddings. In the basement of Hotel Klastrom there is a brasserie with a capacity of 50 persons, which is suitable to the organization of smaller events or friend reunions.
Events in Gyor:
In the Baroque Room of Hotel Klastrom, which was operating as the library of the cloister, merely 5000 books can be found. The specially equipped room can be the ideal venue of conferences, seminars or exclusive press conferences up to 50 persons. There is a terrace with a capacity of 100 persons in the inner yard that provides a wonderful venue from spring till autumn for the organization of different events.