Gyor
3* Amstel Hattyu Inn - GYOR
In the AMSTEL-HATTYU Inn, we have available for our guests 23 rooms of every modern - comfort, with a restaurant for 120 persons, including a covered terrace for 130 persons and with a PUB for 30 persons, where you can find an automatic bowling (with 2 playing fields) too.
AMSTEL-HATTYU Inn invites guests, who want to have a rest, to play sports or to have an entertainment, with a great choice of services.
In rooms of the AMSTEL-HATTYU Inn we organize common-programmes and business meetings. Our terrace on the bank of the Danube is ideal for open-air programmes and grill parties.
In AMSTEL-HATTYU Inn's garden of 5500 m2 you may find sport- and entertainment possibilities both for adults and children by a hard surface tennis- court, table- tennis, children's pool, etc..
In our closed, guarded parking place our guests may safely park their cars.
Docks, suitable for landing by small ships too, are available for our guests, arriving on the river. By an earlier agreement, we make it possible, to refuel the ships.
In the neighbourhood of the AMSTEL-HATTYU Inn a covered and an open-air bath, and the new thermal- and adventure bath await our guests, who wish to experience the wonders of the thermal waters.
If you wish, we organize special programmes for you: sightseeing, by cabs as well, excursions, wine-tasting and excursions by ship to Szigetköz etc.

GPS coordinates: 47.6921 / 17.6217

Quality at an affordable price!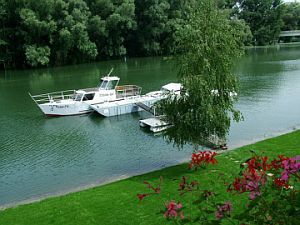 « Back to Hotel description
Pictures
If you like to eat well, drink fine beers, listen to good music, to have a quite rest, a pleasant getting away from it all, you can find all these possibilities in the same place, in one of the most beautiful parts of Győr (in West–Hungary), only a few-minutes walk far from the historic centre, in the AMSTEL-HATTYÚ Fogadó (AMSTEL-SWAN Inn) lying on the bank of the Moson-Danube. Hotels In Gyor.
If you click on the thumbnails below, you can see the pictures full sized
« Back to Hotel description
Price list
The prices mentioned below are indicative and are subject to change by the hotel management. Your reservation will be confirmed at the current cheapest rate.
| | | | | | |
| --- | --- | --- | --- | --- | --- |
| From | To | | Single room | Double room | Triple room |
| 2. Jan 2018 | 26. Dec 2018 | | 44 EUR | 59 EUR | 79 EUR |
Room prices include: staying with breakfast, VAT.
Local tax: HUF 450.-/person/night extra to pay.
Main meal (lunch or dinner): HUF 3300.-/person/occasion.
Pets are welcome free of charge.
Children under 3 years stay free in the parents' room. 50% discount for 3-12 years old children.
Check-in: 14:00,
Check-out: 10:00.
Credit cards accepted: Eurocard-MasterCard, VISA, AmEX, Cirrus Maestro

Online Reservation
Order with immediate online confirmation.