✔️ Hotel Kálvária Győr ****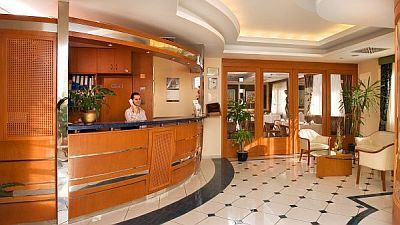 Hotel Kalvaria Gyor - jewels box in the city of Gyor
The 4-star Hotel Kalvaria is situated near the baroque inner city of Gyor, 125 km from Budapest and Wien and 75 km from Bratislava. The hotel is easily approachable, the thermal bath of Gyor is located within walking distance.
In the 3-star hotel block - built in 1998 - we are waiting for our guests with atmosphere of intimacy and with rooms equipped of high standard.
In the 4-star hotel block - built in 2002 - we pamper our guests with demand quality rooms and other services.
The two hotel buildings are connected with a closed court, where there are parking places free of charge for hotel guests.
Hotel Kalvaria is waiting for both businessmen and families: we ensure wired Internet-connection in the rooms, and wireless in other places of the hotel. We have child's bed, child'chair and games for the little ones.
Our rooms are equipped uniform, all rooms have air-conditioning, individually controlled heating and cooling. The rooms are equipped with bathroom, TV, telephone, minibar, hair drier and safe.
Our hotel is suitable to welcome handicapped people, specially shaped bathroom and elevator ensure the comfort for our guests.
Hotel Kalvaria has a magnetic card lock system.
In our hotel there is a fitness room, sauna, solarium and massages can be required to relax after a daily work or after a long walking-tour.
We offer complete dental treatments for our guests.
Do you wish to have culinary evenings?
Our Carmen Restaurant offers Hungarian and international specialities from 11:00 am. until 11:00 pm. every day. In our restaurant everbody founds its taste. You can make a choice from light foods to Hungarian specialities and it is possible to take your meals in buffet system or a'la carte. From spring till autumn we serve up on the terrace of the restaurant. There is live music to ensure a good mood.
We undertake the organisation and settlement of family or company programs within the compass of party service.
The conference rooms are built with modern technology, which makes possible to organize meetings and smaller conferences up to 80 participiants.
Free time:
The thermal bath is located only 1 km from Hotel Kalvaria within walking distance.
We recommend for tourists:
- millenarian Benedictine Monastery of Pannonhalma, World Heritage Site (20 km)
- mysterious landscape of Szigetköz between Mosonmagyarovar and Gyor with bike routes (34-50 km)
- Fertő-Hanság National Park
- Püspökerdő: 9 km of promenade
- air excursions from Pér (18 km)
- Bábolna National Stud Estate
Cultural events:
- performances of the world famous Gyor Ballet Company
- Gyor Summer International Cultural Festival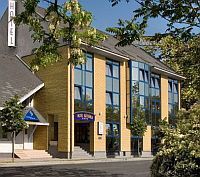 ✔️ Őszi győri kiruccanás akció a Kálvária Hotelben (min. 1 night)

2023.09.01 - 2023.12.20
Őszi győri kiruccanás akció a Kálvária Hotelben (min. 1 éj) 12.750 Ft / fő / éj ártól / reggeli / wellness használat / ingyenes wifi /