✔️ Hotel Garzon Plaza Győr ****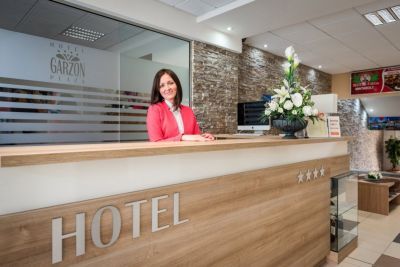 Hotel Garzon Plaza Győr ****

Hotel Garzon Plaza **** is one of the four-star hotels of Győr, found near the city center, beside the Pláza and Győri Hospital. Hotel Garzon Plaza can be approached on the M1 motorway from Budapest. The hotel is an excellent choice not only for tourists but also for business travelers as it provides an ideal location for conferences and professional events. The hotel has an excellent wellness area for its guests.
The Plaza Hotel rooms feature includes in-room safe, LCD TV, a telephone, a tea kettle with coffee and free Wi-Fi Internet access. All rooms are non-smoking, moreover the bathroom is equipped with a shower or bath and a hair dryer.

Hotel Garzon Plaza Győr - Single bed room:
The single rooms can only accommodate one person, no extra bed can be requested.

Hotel Garzon Plaza Győr - Superior double rooms:
The double rooms are either equipped with a twin or double bed, ideal for accommodating two people.
Hotel Garzon Plaza Győr- Standard and Superior Apartments. The hotel apartments are ideal for accommodating two people. The apartments can be equipped with one extra adult bed.

Hotel Garzon Plaza Győr - Suites:
The suites are located on the first and second floor. The suites have a living room, a bedroom and a kitchen. The suites have an extra bed option and can be equipped with two adult-sized beds.

Hotel Garzon Plaza Győr - Fitness and Wellness division:
The hotel's spa area is equipped with a pool, a sauna and jacuzzi. The hotel's fitness room is equipped with an elliptical trainer with a screen, exercise bike, Flabelos machine, upper body and abdominal machine and an abs machine.

Hotel Garzon Plaza Győr - Restaurant:
The Cosa Nostra restaurant operates as the restaurant of Hotel Garzon Plaza. It offers Italian, Mediterranean flavors and nearly 50 kinds of rum. The restaurant's interior room can hold up to 30 people, and its winterized terrace can accommodate 40 people.

Hotel Garzon Plaza Győr - Conferences:
The hotels conference and event rooms are of different sizes which allow the possibility to choose a conference room on the nature of the conference or of the meeting. They have natural lighting, which can be darkened as well, given the nature of the event. The rooms are fitted with all the technical equipment that are needed in today modern age, and awaits the participants for trainings and conferences. The hotel offers free parking for the people that are participating in events.